Aidan Monaghan | 9/11 Blogger | Monday October 01, 2007
Why did the collapse of WTC 7 shortly after 5pm on September 11, 2001, begin with the fall of the rooftop penthouse located on the east end of the tower? Based on the following images, one can see that significant structural damage to the southeast face of WTC 7, directly below the penthouse (yellow circle), apparently did not exist. This conclusion can be based on the survival of the pedestrian bridge located near street level, directly below this rooftop penthouse (red circle). The absence of heavy structural steel from WTC 1 in the region of this bridge (right), virtually eliminates the possibility that significant damage to the southeast face of WTC 7, lead to the onset of WTC 7′s collapse.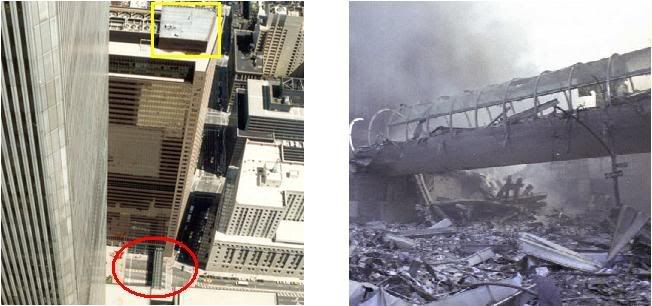 By comparison, debris from the collapsing WTC 2 is known to have damaged the nearby Bankers Trust building. Debris from WTC 2 that impacted with the Bankers Trust building is clearly visible on the ground beneath the building itself.
Publications such as 'Popular Mechanics' have repeatedly alleged that still unverified damage to WTC 7 lead to its collapse:
"On about a third of the face to the center and to the bottom — approximately 10 stories — about 25 percent of the depth of the building was scooped out."
http://www.popularmechanics.com/technology…
The start of WTC 7′s collapse, beginning with the east end rooftop penthouse: